Dear Measue friends. I started writing this months ago, and shit is weird and there's this virus out there and everything feels upside down. I wanted to write something deep and meaningful, but I don't currently have it in me. So I just decided to finish what I started.
"Why is it that Google Analytics says I have a 300 conversion from a certain source, but that source says it has 325. And our CRM has completely different numbers."

I hear a variation on this question weekly.

There are a bazillion reasons why this might happen. Frankly speaking, most of the time, it's not worth looking into. Because different tools work in different ways, and that's okay.

But I might, under these conditions:
The discrepancy is greater than 5%;
The volume we're looking at is greater than 100 conversions;
The client won't pay me if I don't at least try.
If GA is showing 3 conversions, and your CRM shows 4, it's very unlikely I'll be able to find a pattern in the problem. But every organization is different, and sometimes I break these rules. But before you dive too deep into why things look different, consider if the effort will be worth it.

When I do decide to investigate, here are some of the common reasons why we might find a discrepancy. And most of them, you can't do anything about. You just have to know.

And knowing is half the battle.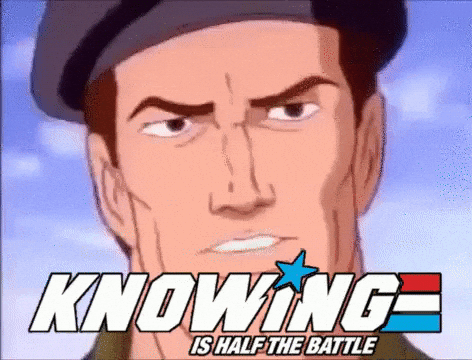 Scenario: Facebook Ads to Thank You Pages and Everything Between.
I've been seeing Mightier ads everywhere these days. So I'm going to pick on them. I'm not affiliated with them. I don't actually know if they experience any of these issues. But since they do online digital advertising, they probably do.
Here's the basic scenario:

I see an ad. I sign up for the mailing list.

There are a million things that might happen that can cause different tools to count my conversion in a different way.
Issue #1: Tools Define Conversions Differently
The most common way I've seen folks set up Google Analytics goals is to have it fire on a pageview. If you're sophisticated, you may also fire them on events based on clicks or form submissions. Facebook has a similar method.

Let's say that I subscribe to the email list. Facebook is tracking conversions based on clicks to the submit button. Google Analytics based on views of the thank you page. And the CRM gets my email address. Here's what that might look like:
Facebook logs the impression
Facebook logs the conversion on the Submit Click and your CRM collects the email address.
I land on the thank you page, where Google Analytics picks up the conversion. I then walk away without closing the window.
The next day, I go back, and the page loads. Google Analytics picks up another conversion.
If you're keeping score at home:

Actual Conversions: 1
Facebook Conversions: 1
CRM Conversions: 1
Google Analytics Conversions: 2
Issue #2: Different tools define the starting point for a conversion differently.
Have you ever looked at an ad on Facebook? If so, Facebook has put you on the path to conversion. It doesn't matter if you click on the ad or not. But Google Analytics has no idea that you saw the ad on Facebook.
Facebook logs the impression.
Some time goes by.
I google it and click on the organic search result.
The pageview is sent to Google Analytics as coming from google/organic.
Facebook logs the conversion on the Submit Click and your CRM collects the email address
Google Analytics logs the conversion and credits organic search.
If you're keeping score at home:

Actual Conversions: 1
Facebook Conversions: 1
CRM Conversions: 1
Google Analytics Conversions Crediting Facebook: 0
Google Analytics Conversions Crediting Organic Search: 1
Issue #3: Different tools use different attribution models
Yes, Google Analytics now allows for multi-channel attribution. But many organizations still use the default last-click attribution reports.

Let's stick with the full scenario in Issue 2. I get a few emails, click on them, and eventually, buy the product.

Facebook will credit itself with the conversion.

Google Analytics, in its primary reports, will credit Email. You can see the assist in the multi-channel reports.
Sometimes, People are Just Funny
So now we know different tools do things in different ways. But you know what…so do humans. Sometimes, people are funny.
Tracking Blockers/Browser Privacy/Cookie Wars
More people are taking control of their privacy, and good for them. Users have more tools now than ever to actively block tracking. And now browsers are doing it for them. Users may flat out block Google Analytics and Facebook Ad tracking. But if they sign up for something, their CRM will still log the conversion.

Fine. I screwed up.
Your goals, in Google Analytics, or Facebook, are likely set up by humans. And humans make mistakes. If your thank you page is "/thankyou", but you enter your goal with "/thank-you", guess what. Google Analytics will not track any goals.

The good news is, this is one that's easy to fix!
Database Changes
Someone accidentally donated $10,000 to your organization instead of $100. So they call the donor line and get it sorted out.

You have a super-sophisticated de-duping system that can tell I tried signing up for your free trial with 17 similar-but-still-different email addresses.

There are any number of reasons why records change in your database. And when they do, it won't match your other systems. In many online tracking tools, data removal is difficult, and sometimes impossible.
Users Are Funny
We want to understand and make sense of everything your users do. But sometimes, users do strange things.

I've been "surfing the web" since 1994. My online behavior is still influenced by chatting with my high school bff on Prodigy. If an analyst looked over my shoulder, they might cringe at how my browsing defies their models.

There are a million different things a user can do, and sometimes, it makes for funny data.

Fraud. Fraud Fraud Fraud Fraud.
And if none of the above explains anything, you might have a fraud problem on your hand.
Credit Card Fraud
Bad actors may be testing stolen credit cards on your website. The transaction will go through on the web, but your backend software may detect the fraud. Or you might discover it later and remove the transactions. But Google Analytics won't know that.
Ad Fraud.
If the above explanations make sense, then it may be you're experiencing ad fraud. It happens at an alarming rate. I could explain it, but Aram Zucker-Scharff does a better job, and he's funnier than I am.

The numbers are all fking fake, the metrics are bullshit, the agencies responsible for enforcing good practices are knowing bullshiters enforcing and profiting off all the fake numbers and none of the models make sense at scale of actual human users. https://t.co/sfmdrxGBNJ pic.twitter.com/thvicDEL29

— Aram Zucker-Scharff (@Chronotope) December 26, 2018